The ecommerce landscape is about to change in the MENA market with Amazon acquiring Souq.com and entering the region as a dominant player with minimal competition. To complete this winning strategy, Amazon need to improve Souq.com's digital presence, especially through optimising its search visibility and experience. We share the top 10 SEO steps that Amazon can take to sustain a prominent position in the e-commerce market in the UAE with souq.com
1. Make sure the website is published on one domain only
Souq is currently available on several domains without using a consistent domain structure, sometimes for special offers and sometimes for countries like uae.souq.com, deals.souq.com, and saudi.souq.com, having multiple country subdomains in this way is not recommended.
This can cause several unexpected issues like configuration mistakes, incorrect canonicalisation, misconfigured servers, malicious hacking and unauthorised copying.
Having the website live on one domain will help to improve the link profile for the whole website and increase the domain authority in addition to avoiding all duplication issues that could happen because of the cross-domain selection.
2. Migrate the website from http to https
HTTPS (Hypertext Transfer Protocol Secure) is an internet communication protocol that protects the integrity and confidentiality of data between the user's computer and the site. Users expect a secure and private online experience when using a website. Google encourage webmasters to adopt HTTPS to protect their users' connection to their website, specially with sites like Souq.com where users put personal details, such as their credit card information and address, to purchase. This will help from an SEO perspective as well as boosting the user's trust in the site.
3. Clean & optimise the URL structure
URLs are one of the most important elements that you need to take in consideration as a well-crafted URL provides both humans and search engines an easy to understand indication of what the destination page will be about.
Also, URLs are one of the ranking factors so you should make sure you include primary keywords while you are building your URLs.
Souq.com need to clean the current URLs and make sure to take in consideration the sensitivity of the Arabic language especially same products could have multiple names in Arabic depending on the region or the country which bring different search volumes and different keywords prioritisation.
4. International targeting integration
Souq.com need to adopt an international targeting strategy to make sure their users will find the right page with the right language in the right country, and this can be done by implementing hreflang attributes.
Introduced by Google in December 2011, the hreflang attribute allows you to show search engines what the relationship is between web pages in alternate languages. It's useful when you've created content that's specific to a local audience, so hreflang attribute tells Google which language you are using on a specific page, so the search engine can serve the right language and country-specific pages to users according to the language they're using and their location.
5. Improve the page speed and page load time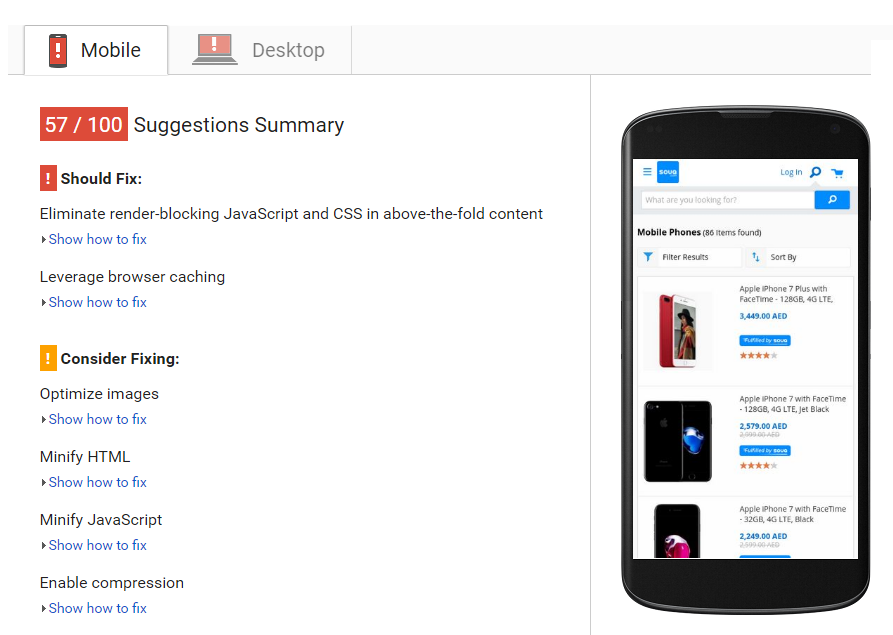 Google has indicated site speed is one of the signals used by its algorithm to rank pages, in addition, a slow page speed means that search engines can crawl fewer pages using their allocated crawl budget, and this could negatively affect your indexation.
Page speed is also important to user experience, pages with a longer load time tend to have higher bounce rates and lower average time on page, also, longer load times have also been shown to negatively affect conversions.
Souq.com could improve the page speed by eliminating render-blocking JavaScript and CSS in above-the-fold content, leverage browser caching and minifying JavaScript, CSS & HTML.
6. Optimise the product images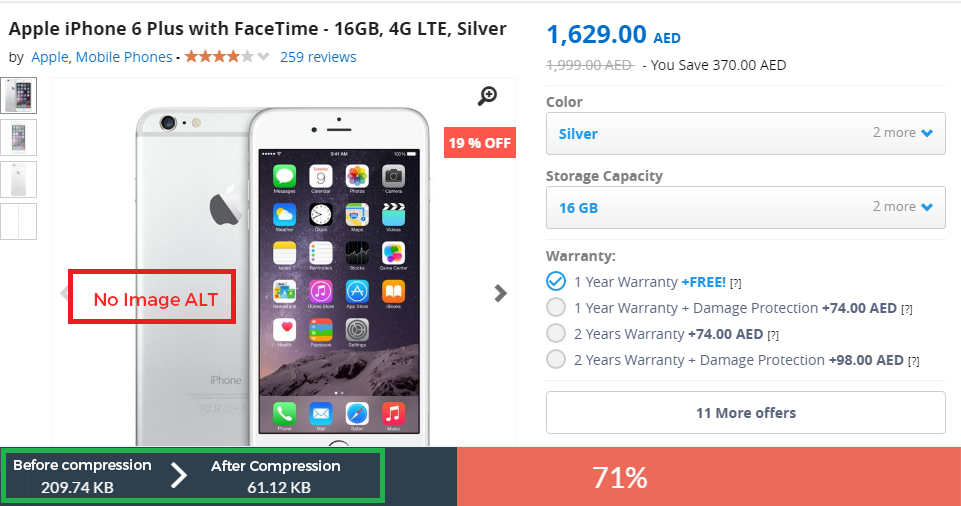 The product images are one of the most important content elements for Souq.com as the user will decide on the product based on what it looks like.
From an SEO perspective, Souq.com can also benefit from higher visibility in organic search through optimising the images' names and alt text with the right keywords, with a special consideration to Arabic language.
7. Optimise the on-page elements


Page Titles and Header Tags are one of the most important ranking factors for a web page, and the meta-description is a big influence on Click Through Rates in organic search.
Souq.com needs to have unique and optimised titles tags, meta descriptions and H1 tags. Making sure to include the primary keywords while writing the titles and headers. Again Souq.com needs to look carefully into their Arabic version and use the right targeted keywords with the right country.
8. Use Google data highlighter
Google data highlighter and rich cards are a good way to provide data to Google Search about Souq.com's products and offers. it can be displayed to users in a variety of formats on different devices and can help drive traffic to the website.
Souq.com will have the advantage of implementing this in Arabic as the competition is low and the result will show in the top of the Google search results page, which means Souq.com can have a golden SERP position and be number one in this market.
9. Make sure you have a full Arabic website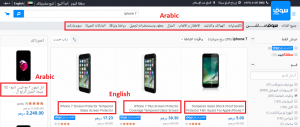 You can find several pages on Souq.com that don't have an Arabic version and this can have a negative effect on organic visibility and user experience. Encountering a page in another language when a user is browsing the website their native tongue can lead to higher bounce rates and less conversions.
This will also affect your quality score and will send a negative signal to search.
10. Localise Arabic content
Souq.com is available in seven Arabic countries, and each country has its own local search behaviours. What could work for UAE might not always work for Saudi Arabia or Egypt. So, it's very important to have a strong Arabic marketing team that understands the MENA market and that can work on localising all the content, making sure to use the popular search terms in each country to reach the right audience and enhance souq.com's position in the market.
Finally, it's important for Amazon to understand that this market has its own unique properties and Arabic can be a tricky language to navigate with there being many different ways to express one idea. So, to make sure they will succeed, Amazon need to localise their marketing strategy and not use a 'one size fits all' approach to this region.