Canvas: An Introduction
In today's techno-centric world, it doesn't take a genius to tell you that Mobile Phones are the lifeline (figuratively) of the majority of this earth's population. Right from waking up in the morning to that annoying alarm tone that we all love to hate, to catching Pokémons while traveling to work, to catching up with friends and family on the many Social Media platforms available to us today, Mobiles are the most desirable medium for advertisers today.
Keeping this in mind, companies like Facebook have shifted their ad strategy to leverage the increasing frequency of the population's use of their mobiles on a daily basis. They are committed to building great mobile experiences for both its users and advertisers by introducing more engaging and captivating features like video and carousel ad formats, which enable companies to showcase their individual brand or product stories creatively.
And so, the Facebook Canvas was born.
What is Facebook Canvas?
True to its name, Canvas is basically Facebook's way of providing advertisers with a blank virtual canvas where the only thing limiting you, is your imagination. Brands can make their own canvas ads by just a quick drag and drop of different creative media such as images, GIFs, videos and more. Facebook's ad exec Mark D'Arcy joked that "The only thing they can't make, really, is excuses."
So what's the big deal about Canvas ads?
Canvas ads are commonly mistaken for their less-fun cousin, the regular Newsfeed ads. But they are a far cry from that. They may look similar, but Canvas ads have a tiny upwards arrow that denotes that when clicked, the ad will expand to cover the entire mobile screen. They include images, videos, call-to-action buttons etc. and all in one inclusive "microsite-like" experience that allows the user to engage with the ad by scrolling, swiping, tapping or just tilting their mobile screens; and doing all of this without having to leave the Facebook platform and enter another site.
Having said that, canvas ads are not the best option for you are heavily focused on direct-response or conversion-centric activity. Since your audience stays within the Facebook app itself, there is no scope to have them convert or for example, "purchase" anything on the canvas ads itself.
Facebook says that early tests have shown that 53% of users that open a Canvas view at least half of it, and the average view time is a stunning 31 seconds. The top Canvas ads can see more than 70 seconds of view time per user.
To give an example of one of our clients who advertised with Facebook Canvas ads, we saw 30% view rate and an astonishing view duration of 35 seconds. The ad consisted of interactive media like videos, scrollable text, images etc.
1) Easy to Build
Creating Canvas ads are as easy as throwing paint on a blank sheet of paper. You don't require any coding whatsoever and Advertisers can now build canvas ads through Facebook's self-serve ad tool, Power Editor. Here, companies have the freedom to choose how they would like to narrate their brand story to their customers by bringing together different media elements like images, videos, slideshows etc. in one immersive platform.
Anatomy of a Canvas ad: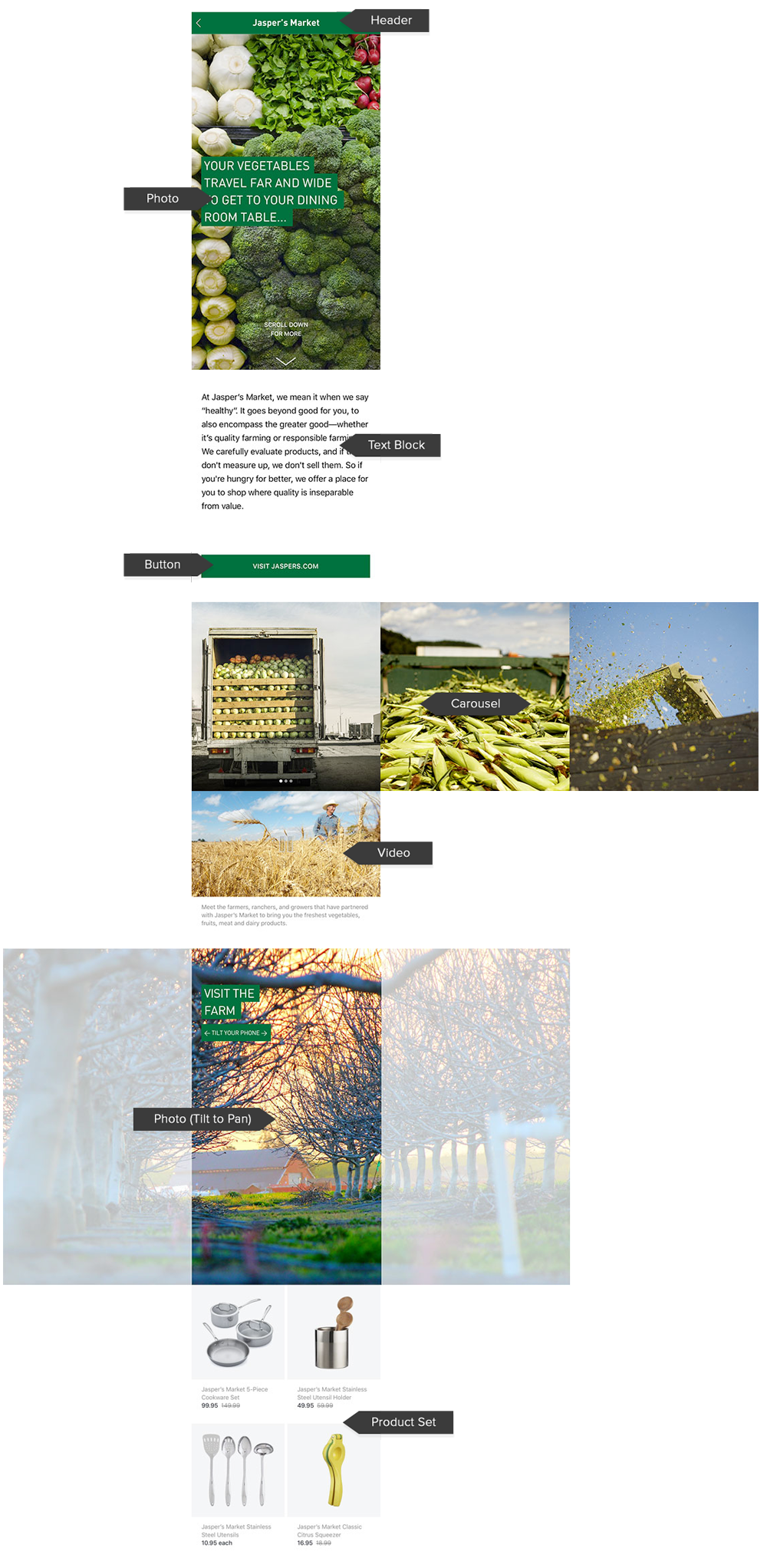 2) Fast and Crisp
We've lost count of the number of times when we've suppressed the urge to fling our Mobile Phones across the room when we face slow load times. Facebook aims at solving our problems (and helping us maintain low blood pressure levels) by providing us with microsite-like capabilities in their Canvas ads. They understand that clicking on an ad and then waiting for a slow loading website or one that is not optimised for mobile usage is frustrating and time-consuming, making the bounce rates on websites alarmingly high.
Canvas ads eliminate the need for a website to tell your brand's story from the equation entirely. Now, when users click on the ad, they get a full-screen ad experience with a mix of multimedia elements like images, videos, slideshows etc.
Facebook canvas allows users to move through digital stories easily; they can watch videos, swipe through a carousel, tilt to view panoramic images, zoom in to view still images in detail etc., making the experience more engaging than a normal mobile site. Canvas uses the same technology that makes photos and videos load quickly on Facebook, so it loads as much as 10 times faster than the standard mobile web.
3) Immersive and not Intrusive
We are all way too familiar with the following scenario; normal Monday, sipping on some tea, browsing through your Facebook newsfeed and you accidently click on an ad and you are unintentionally taken to some page that takes ages to load (yes, even 10 seconds is an unforgivingly long load-time in this digital age) You are frustrated and can't enjoy your tea anymore.
But not with Facebook Canvas ads. They have a little arrow in the upper left corner that reminds you that you can simply swipe left to escape an ad. By the time your thumb crosses the screen, you are back in your Facebook feed.
Since the action of clicking on the ad is so easily reversible, people will be less hesitant to click and engage with the ad, thus ensuring a higher engagement rate and a much happier viewer.
If you haven't jumped on the Canvas bandwagon yet, it's high time to do so! And do let us know if you think Canvas is here to stay or not in the comments section below.