Plotting the Emaar Skyline Online
Middle East as the region uses PO BOX system which means the postal addresses are
not pinned or zoned accurately. This poses a challenge for businesses to pin their locations on Google
maps which accounts to a huge volume of traffic online. Emaar builds, owns and manages hundreds of
landmarks, properties and monuments in the UAE. Many of those landmarks were either not listed on
Google, not owned by them (listing) or wrongly represented resulting in loss of potential traffic and
most importantly, causing inconvenience to users and people in general.
Making the Search, Local.
Local Search has become one of the key strategies within Search Engine Optimisation and Marketing. It
involves analysis, practical application and measurement focused on achieving higher rankings in
proximity based search results. These are search results that take account of your geographical location
on Google My Business platform.
Understanding the Modern SERP's Beyond Link Listing



INTERNATIONAL COMMUNITIES



Taking Stock of All Emaar Locations
Audit of existing Emaar locations was the first step. This was undertaken to create an inventory
of all Emaar properties and understand the current footprint on Google and ownership. Authencity
and accuracy of information available and estimated traffic impact to set KPIs.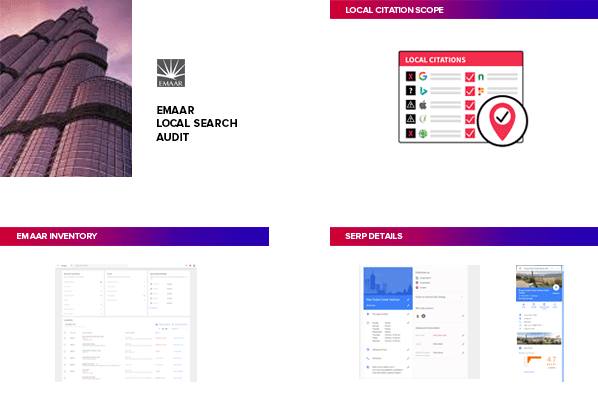 Taking the Real Skyline to the Virutal World
Consolidating & Optimising for Better Visbility
The task was to re-create/plot the entire Emaar skyline from the real world in to the online
world of search engines and maps.
Google My Business optimisation involved
Optimisation of Location Information.
Ensuring
timings and other information
with holidays and Ramadan hours.Optimisation and
curation of images.
Enable correct tracking using UTM codes.
Users also search and look for projects that are still under planning and we made sure that those
were available as well for users to search.
We worked with Google to start claiming, optimising and owning the information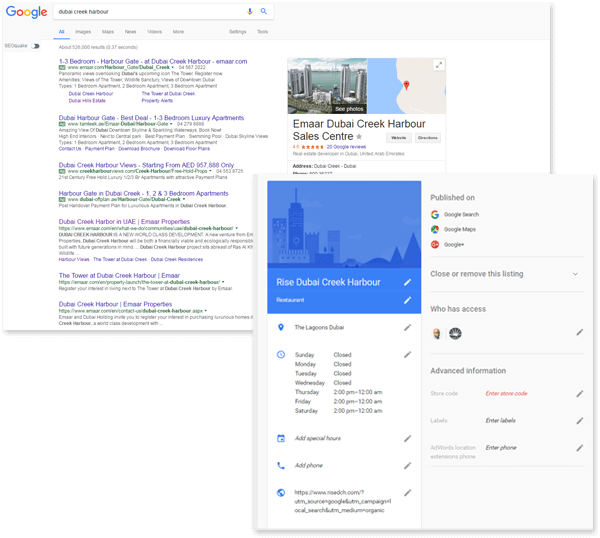 Increase in YoY Traffic from Google My Business
Increase in customers navigating to websites from these listings
Increase in customers requesting driving directions from these listings
Increase in customers using 'Click to Call' from these listings