Geo-Demographic Segmentation
Qatar Airways has been our partner since 2013, and with the work we have been doing for them we identified an opportunity of expanding in Russian speaking countries. These Russian speaking nations present a challenge as Google is not a most-used online search platform and as a result of that search patterns and keywords have a completely different dynamics.
To enhance the visibility of Qatar Airways, we have utilized "Yandex" as it's the No.1 Search Engine in Russian speaking countries for exposure and presence with the target audience and maximize the ROI.
привет! (Privet) Russia. Reaching to a Completely Different World
Every user segment based on geo-location has different challenges. More than the business challenges, it is about knowing the local dynamics, understanding their search patterns and languages nuances. So while we listed the business challenges, the focus was on creating a Search Experience that is relevant to the users.
Understanding the Challenges

Enhance the paid search visibility of Qatar Airways in Russian speaking countries

Attract quality traffic that can increase engagement and flight bookings

Lower the cost per booking and maximize ROI to ensure the low budget is used efficiently
Strategic Approach Towards Creating
A Relevant & Effective Search Experience

Understanding 'Yandex' is different than just advertising on it. We centered our strategy around "Yandex" which is used by many Russian speakers in Russia and around the world.

We optimised our bidding strategy for different devices (especially after the mobile booking landing page was launched).

We focused heavily on more affluant locations such as Moscow, St Ptersburg and Vladivoskov where Business Class seats and long-haul travel were in high-demand.

We localised language on ad copy and keywords through terms specific to native (not formal) Russian to be more appealing to the target audience.
Observe, Learn,
Optimise and Repeat
We kept it simple but effective. We even partnered with Qatar Airway's local office in Russia to synchronize our work with their local promotional campaigns.
We continously optimised the campaign to make the most of our limited budget by focusing on best performing routes with higher capacity and best converting regions.
We used historical performance data to determine most successful keywords to build a very granular campaign structure for different regions.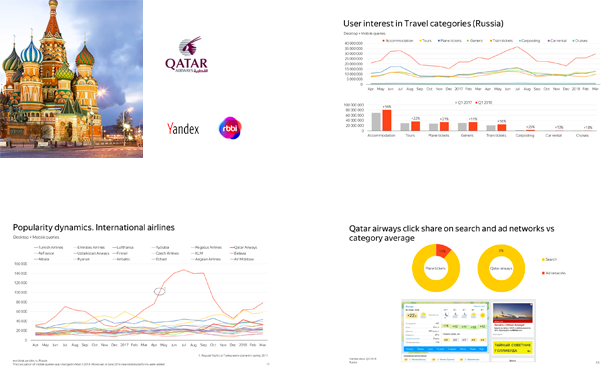 Airlines as a category is one of the most cuttered and competitive when it comes to Search. But by taking a fresh approach based on insights we achieved the result we were looking for. And beyond…
Increase in booking revenue from the region
increase in Avg. ticket booking value from the campaign
Decrease in Cost-per-Booking spend on Media