Virtual Conference Solution
Design and launch a bespoke virtual conferencing solution that is fit for purpose and able to effectively engage all stakeholders in a meaningful, inclusive and impactful manner.
A visually rich online platform that enables global organizations to empower global audiences to virtual network around topics of interest & listen to speakers.
The highly customizable platform allows for enhancing all venues to match the image of the Bank and their specific requirements.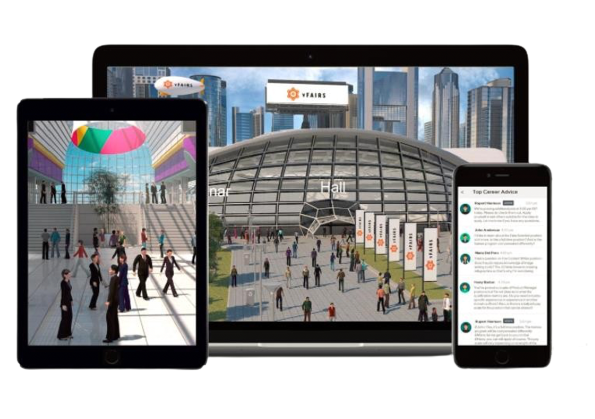 Benefits of Virtual Conference

Conduct Online Conferences
Cost-Effectively

Reach Global Audiences with no need for Commute/Travel

Engage participants in real-time using audio/video chat

Collect Customer Registration Information from Attendees

Enable Speakers to Deliver Lectures & Keynotes Remotely

Measure Engagement, Turnout & ROI with Detailed Reports

Enable Attendees to Access the Event  On-The-Go from any Device

Reduce Carbon Footprint Compared to Physical Fairs

Highly Customizable – Cater's to Specific Requirements
CUSTOM REGISTRATION FORMS

Capture registrations for your virtual conference with a customized registration form for attendees with form fields of your choice.



HOST BRANDED LANDING PAGES


RBBi will work with you to deliver a customized and branded experience designed to excite audiences and maximize engagement.



KEY INFO TO LANDING PAGES



Chart out a clear agenda complete with departments, speaker bios, webinar/keynote schedules, and chat timings.




Add a custom FAQ section to answer event-specific questions.


Rich Virtual Environments
Rich Virtual Environments

Custom Designs to enable you to create an impressive virtual environment that best matches your event's nature and audience.



Virtual Auditorium 

Custom auditorium where attendees can view live webinars, pre-recorded videos & semi-live sessions.



Virtual Booths



Simulate a live conference by setting up custom virtual booths for various departments.



Upload Videos Docs & More



Add Images, videos, presentations and documents on a custom designed virtual booth to allow departments to share more about their openings and career opportunities.



Resource Center



Add documents, videos and content of other types in a searchable library that will be available for all participants to browse.
Exterior View
Background have been customized to fit in Riyad Bank's main building.
Virtual Lobby
No need to download any software, platform mimics the dynamics of a physical conference making it easy to navigate.
Virtual Info Booth
Just like in an actual conference, your online event will have a dedicated information booth to orient and guide visitors
Virtual Briefcase
Participants can access Virtual booths where they can view, download & browse content like brochures, images and videos. They can then save interesting items to a virtual briefcase that they can download later.
Chat Conversations
Representatives can start meaningful conversations with attendees using text, audio and video chat, in a 1:1 or group chat setting.
HOST LECTURES, KEYNOTES & TALKS
Empower speakers to deliver engaging webinars and facilitate 2-way conversations with Q&A sessions.
ROI Reports
Access chart and tipline metrics to gauge event engagement and ROI.
Full Data Export
Export all data collected during the event into Excel files for internal sharing and advanced analysis.