Google launched Local Search to help people find businesses and places near their geographical locations. The results are shown in a number of places across maps and search. For example, when we search for "SEO agency" from a desktop or mobile, Google will prioritize showing you nearby SEO agencies that you might like to visit or contact.
In this article, you will find the best local search practices to list your business, improve your local search rankings and google knowledge graph, and finally how to measure your results.
How to list your business or location in google local search results?
First, you need to create Google My Business account. The next step is preparing a list of all your business locations and start listing your locations one by one, by creating a profile for each one separately (if you have more than 10 locations you can extract them from excel file).
Make sure while you are adding your locations to add the following data:
Business name
Business category
Exact location address
Phone number
Working hours
Your website
Location images (your office building)
Your logo
Then you need to verify your account, and the verification process is different from one location to another. If you request your verification code by post mail and didn't receive it within 14 to 25 days, you can verify your locations by phone; all you need to do is calling Google My Business help center and they will take care of the rest. Once your profile is verified your business will be listed on Google local search.
What are local search ranking factors?
Google local search has its own ranking algorithm, but as with other google algorithms, no one knows exactly the importance of each ranking factor.
For Local search, the main things you need to look at are:
Your location and description are relevant to the search terms
the distance to the geographical area where the search is taking place, as Google will try to show the nearest places to the user.
and business prominence, as some places are more prominent in the offline world and the search result try to reflect this in local rankings.
There are also additional factors like customer reviews, social media popularity, and followers number.
What is Google Knowledge Graph?
Knowledge graph is a box that displays information about businesses, locations or even public figures, and it's presented at the top of search results.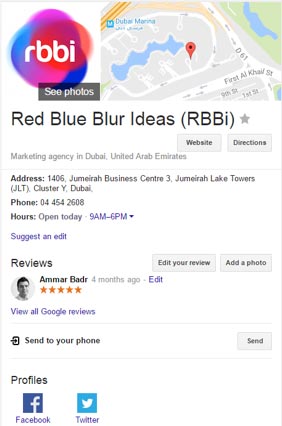 Knowledge graph however, is much more than just an information box, as it enables internet users to engage with your brand without landing on your websites, like phone calls, social profiles, or getting directions to your offices or shops.
How you can implement and optimize Google knowledge graph?
It's so easy now to have a knowledge Graph, you don't need to implement any scripts or add any tags to your HTML as Google will generate automatically a knowledge graph once you verify your profile on Google My Business, and it will import the data from the profile as well. You have a full control on the information that you want the internet users to see on this graph.
To have your official social media platforms listed on the Google's Knowledge graph you just need to verify them, then Google will directly display them on it.
How to measure your performance from Local Search?
Google My Business insights provides a couple of reports that cover the last 90 days of activity. You can also add a tracking code to the website URL that you've added, and you will be able to track your users' behavior after they land on your website. That way you are able to know the traffic size, engagement, and conversions that comes from local search.
Main Reports on Google My Business Insights:
Branded Vs Generic impressions: this report will help you understand how customers search for your business, as it's important to be visible on generic keywords related to your products or services as well as branded keywords.

Search Vs Maps impressions: this report will help you understand where customers view your business on Google, if it is coming from search on Google web search for example or on Google maps.

As a performance and data-driven agency, we have been helping business rank for google local search since its implementation, and it's fast becoming one of the important tools that any business can use to boost their presence online and drive conversion rates upwards. For Further help, please contact us or leave us a comment and we will be glad to help you make the best of this tool to grow your business.