If your business has a web presence that's worth anything to you (and it should), then you are most likely using a web analytics platform to track how customers are using your site and evaluating its performance. There are loads of free and paid tools being used for this purpose, but today we shall be taking a look at Google Analytics and its premium version: Google Analytics 360.
Google Analytics comes with loads of features. From Advertising Reports to Site-Speed Analysis and everything in between, it's no surprise why it is so popular. However, despite being such a robust free tool, there are sites with demands so huge that the free version of Google Analytics may not meet your growing needs.
This is where Google Analytics 360 comes into play.
So, what really is the difference?
Being a more robust version of Google Analytics, Google Analytics 360 offers all the features of Google Analytics, but with enterprise-level data-handling capacity, extra features, as well as support from Google. Here's a breakdown of what you get with Google Analytics 360:
1.More Data
Google Analytics 360 has much higher limits than Google Analytics in just about every aspect of data collection and reporting. Some of these are:
Bigger Sampling Limit: When creating ad-hoc reports (modifying Google Analytics default reports in any way) that exceed a certain number of sessions, Google Analytics samples the results to reduce the response time. With the free version of Google Analytics, the sampling limit is quite low (500,000 sessions) which can be frustrating when trying to extract historical data for analysis elsewhere. Google Analytics 360, however, has a much higher threshold giving analysts greater flexibility in utilising this data with the ability to extract as high as 100 million sessions!
Monthly Hit Limit: A hit is basically every individual user interaction (pageview or event) on your site that is sent to Google Analytics. Every Google Analytics property has a limit of 10 million hits per month. Once this limit is reached, Google Analytics doesn't guarantee that subsequent hits will be recorded, and if they are, they will usually undergo heavy sampling to reduce the amount of data being sent to your property. With Google Analytics 360, the limit is raised to over 2 billion hits per month.
Report Data Rows: When creating custom reports in Google Analytics, the number of rows that can be retrieved is limited to just 50,000. Depending of the amount of data being examined, this can prove restricting. Google Analytics however increases this limit to 75,000, and offers another exclusive tool (Custom Tables) which completely blows this out of the water with a limit of 1 million rows! The limit increases to 3 million rows for downloaded reports.
Custom Dimensions, Metrics, and Variables: Many websites utilise GA's Custom Dimensions and Metrics to enhance their reporting with custom data. The free solution is however limited to 20 Custom Dimensions and Metrics (each), while Custom Variables have a limit of 5. GA 360 gives users greater flexibility, raising this limit to 200 Custom Dimensions and Metrics (each), and 50 Custom Variables.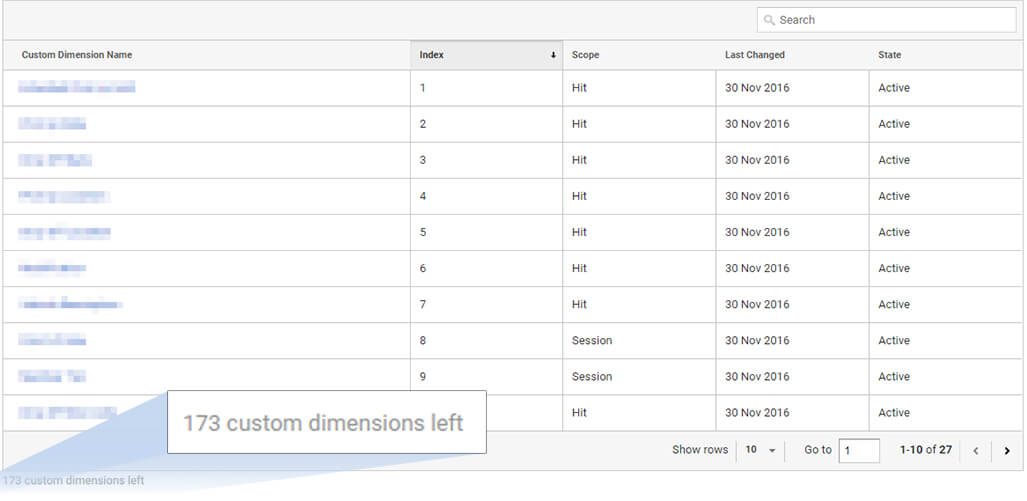 Data Freshness: Data Freshness refers to the amount of time it takes for a user hit to be collected, processed, and made available in the Google Analytics Property. Google Analytics 360 guarantees data freshness of less than 4 hours compared to Google Analytics' guarantee of less than 24 hours.
2. Integration
Google Analytics comes with integrations with several Google platforms such as AdWords, AdSense, Search Console, DoubleClick AdExchange, Google Display Network, and Firebase. Google Analytics 360 takes this up a notch, adding native integrations with DoubleClick Bid Manager, DoubleClick Campaign Manager, DoubleClick for Publishers, and DoubleClick Search.
Google Analytics 360 also integrates with Google BigQuery. This is very useful in cases where you need to perform analysis on more granular session-level data and more complex querying of unsampled data.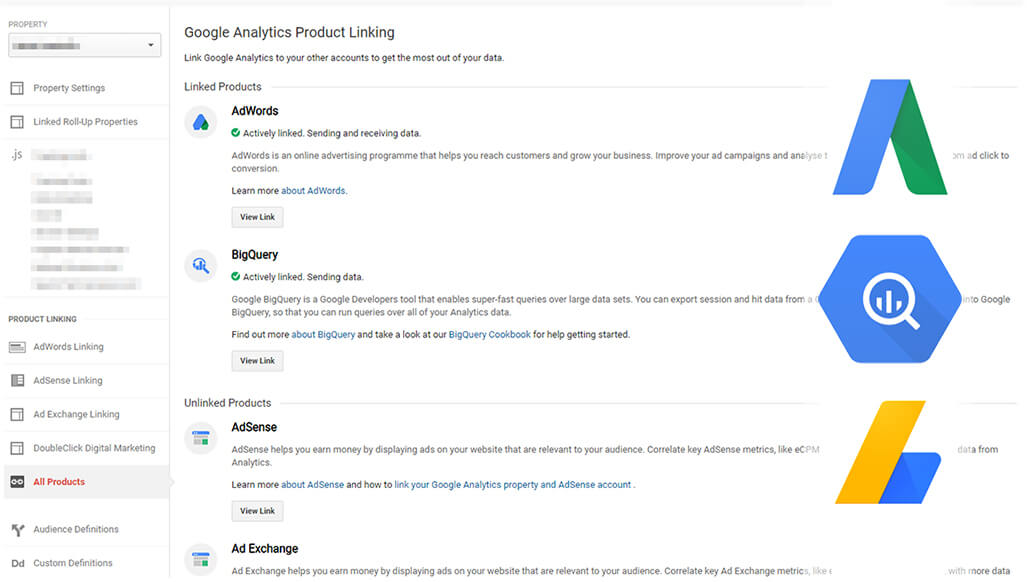 3. Extras
Google Analytics 360 also comes with a few extra nifty features such as:
Cross-Property Roll-Up Reporting: This is a feature that allows data from multiple Google Analytics properties to be aggregated and viewed in the same reports. This is very useful in a scenario where an organisation has multiple versions of their sites and would like a hassle-free way to view the overall performance of all of them.

Data-Driven Attribution: Google Analytics' model comparison tool allows you to attribute conversions on your site to channels using some standard attribution models. GA 360 takes this a step further and offers a data-driven attribution model which uses data from your Google Analytics property to algorithmically generate a custom attribution model.
Custom Funnels: Custom Funnels is a feature that allows you to visualize the steps that users take to complete any task on your site by creating funnels out of specific user behaviours on your site
Custom Tables: As mentioned earlier, Google Analytics will sometimes sample data to enable faster access to custom reports. These reports also have a row limit of 50,000. With Custom Tables, you can define custom reports that you view on a regular basis along with any segments and filters, and this data will always be presented unsampled. It also comes with a massive daily limit of 1 Million rows.
4. Services, Support, and SLAs
In terms of support, Google Analytics users are limited to community forums and the (admittedly quite detailed) self-service help centre. Google Analytics 360 on the other hand comes with Enterprise-level service and support. Some organisations also require an SLA for any software or service that they use, and this prevents them from using Google Analytics. This isn't a problem with Google Analytics 360 as it comes with guarantees on Data Freshness, Data Collection, and Reporting.
How can you tell if you need to go premium?
"Why would I need Google Analytics 360 though?", you ask. If you fall into any or all of the following categories, then you should consider switching to Google Analytics 360.
You have a high-value digital strategy:
Google Analytics 360's pricing starts from $150,000 per-annum. It goes without saying that making such an investment only makes sense if evaluating your marketing investment is worth a lot more than that to you.
You are a big business and your website receives enormous amounts of traffic daily
Some websites receive insane amounts of traffic on a monthly basis that would make a mockery of the hit limits mentioned earlier in this post. The free version of Google Analytics just won't cut it for these kinds of sites, and something more robust (Google Analytics 360) will definitely be needed
You need your data as fresh as possible
Depending on the frequency of reporting required in your organisation, the 24 hour data freshness of Google Analytics' free version may not be enough. As mentioned earlier, Google Analytics 360 offers a data freshness guarantee of 4 hours under their SLA.
Google Analytics 360 does not come with a plethora of extra features when compared to the free version, but this does not matter when the free version is such a robust tool already. What Google Analytics 360 does offer is an enterprise-level capacity for data processing that takes your reporting to the next level. This along with the few extra features and the ability to integrate natively with several other Google products is what makes Google Analytics 360 an excellent purchase for larger enterprises that need it all.
Contact us at RBBI for more information or discuss your Google Analytics options, we're here to help!